Who we are
Ethos is a grassroots humanitarian association established and registered in Thessaloniki. We are a group of experienced humanitarians, educationalists, social workers and psychologists who have been working to support refugee children in Greece since 2015. Ethos members have invested their own resources to develop the association and have put in place an accommodation and integration project in Thessaloniki for 15 unaccompanied children that turn 18, including an office space and recruitment of experienced professionals who are committed to bringing an innovative solution to caring for unaccompanied children. We have built strong partnerships with organisations that can provide supportive services and we are examining the urgent needs and major gaps that we can make best impact. We are committed in assisting those most in need in the most meaningful and holistic way.
Our partner Refugee Trauma Initiative (RTI)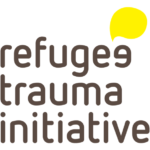 In August 2017, RTI and Ethos came together to form a partnership with the purpose of combining resources to advance and deliver a holistic model of care for children of all ages in critical periods of their development. RTI provides specialist, psychosocial support to refugees in Northern Greece. At the core of their work is their Early Childhood Development (ECD) programme. Currently they employ a team of therapists including art therapists, psychologists and ECD specialists who work closely with the refugee communities to meet their psychosocial needs. The team is multilingual (Arabic, Farsi, Greek, English) and reflects the communities where refugees come from. Visit RTI's website to read more about the work here.
Why a partnership?
Refugee Trauma Initiative (RTI) and Ethos are two grassroots humanitarian organisations, founded during the European refugee crises, with the development and wellbeing of children as a primary objective. RTI has been focusing on supporting children during the critical early years of development, while Ethos has been supporting youth integration and unaccompanied minors transition from protective care into independent living.